5 Best Traffic Schools in Orange County: Online Review
Last updated: May 30, 2021
Our website is supported by our users. We sometimes earn affiliate links when you click through the affiliate links on our website
With the Coronavirus raging, the world of online schooling is the best solution nowadays. A wide range of universities has online learning programs. Even traffic schools offer online schooling to ease the process of getting a driver's license. In this article, we will outline the best traffic schools in orange county.
What Is Online Driver Schooling?
Have you ever found yourself in a position to not have time to finish your daily duties and there is never enough time during the day?
This is the moment when online traffic schools come in handy.
Online Driver Schooling has grown huge over the past 10 years and they became irreplaceable in our daily life. It's a traffic school learning platform where students read the provided material and then complete the course activities whenever it's suitable for them. These materials are available either through an app or a website. So, as long as you have internet access and a state-approved provider online traffic schooling is a perfect solution for busy people.
Now, you are probably asking yourself – ''How does an online traffic education look like?''.
I might have something for you here. Scrolling Youtube the other day I came across this video. Hopefully, you will find this helpful. I know I did!
Online Traffic Schools Pros' & Cons' 
Online traffic schools' have taken their rightful place in the schooling world, because of the easier and cheaper way of educating people in many states like Texas, Arizona, California etc.
The pioneer state of implementing this educational concept is California and the rest just followed. The main encouragement is for people to be able to complete traffic exams with more flexibility.
We made a list of some pros and cons of online schooling for you:
PROS
Learn from home – It's always nice when you can stay in your bed and do your duties at the same time. That's why online traffic schooling is perfect for people who can be bosses of their own time.
Choosing when to learn – Busy schedule can be a huge problem if you need to go to the traffic school to take the classes for the exam. With online driver opportunities, you don't need to. You can choose your own learning time. 
Change your schedule any time – You can change your classes schedule any time and you can choose whatever learning time suits you.
Work online – Mostly it's suitable for the young drivers, which are more familiar with this type of learning and feel more comfortable with it.
An individualized program – Online traffic schools are focused on your needs because you're not in a classroom with 20 other people and their needs.
Save time – When you go to a traffic school for the classes you spend time getting there, in the class, going home etc. With online traffic schooling, you cut that unnecessary lost time because you learn whenever and wherever suits you.
A low-stress environment – being in a classroom can be very stressful for some of us. Online learning provides a non-stress environment, but the learning benefits are there. 
Keep up with responsibilities – Daily duties don't have to be put on stand by, you don't have to find a babysitter for your kid etc. so you can go to the traffic school. 
A good way to focus – Traditional classroom learning can be a struggle for some people. Because of their lack of being able to focus on the material with all that noise in the classroom, online home learning is a good choice for them. 
Go at your own pace – It doesn't matter how many times you go over the material when you learn online, no need to feel stressed to ask for clarification. Go over the material as many times as you need. Learn whenever and however it suits you.         
CONS
Not highly regulated – This results in low education quality
Not necessarily the fastest way to your driving license-  Depends on your personality. If you're not self-motivated and try to finish the test as fast as possible, then online schooling might not be for you. 
Hard to choose the right one because of the abundance of schools – There are so many online traffic schools nowadays, that it became really hard to choose the good one. Use their reviews and do internet research about the schools and then decide which one suits you best.
They may have hidden fees about your certificate – When you choose a school, make sure you read the fine print. They may have hidden fees for sending your certificate to the court and they will make you pay, make sure they have a policy of money-back guarantee
Traffic Laws
''More than any other invention, the automobile has had a significant impact on all aspects of life in California. Initially referred to as a "horseless carriage", the automobile presented many challenges for the state, and the first 50 years of automobile legislation were focused on creating laws, rules, and guidelines to help ensure that all Californians would be safe on the roads.'' – DMV
Driving laws are here to control the culture of the driving population. The DMV is a legit governmental site. All legal questions that can pop-up on your mind can be answered here.
Best Traffic Schools In Orange County
Since there are so many online traffic schools in Orange County/California, it can be a bit tricky. The court can ease your quest and give you a list of schools, all depending on the purpose. But, if you don't have one, we hope this article can help you find the cheapest, high qualified online traffic school.  
The following options are the ones' you can go with:
iDriveSafely

Improve Traffic School

Aceable

Go To Traffic School

DriversEd.com
iDriveSafely is our ''go-to'' choice because it's well established and has a good reputation. It's been around since like forever. Their technical support team is always on the go to help you resolve a problem. You can contact them 24 hours per day, every day of the year(even holidays).
Usually, the online test takes 6-7 hours. With the help of the skilful staff of this school, it will take only 1-3 hours of your time. Their ability to keep a neat and clean record for you makes them a very good choice.
You've signed-up but you don't like it! Worry not, they have a money-back guarantee policy or a sign-up for a different course. They are among the cheapest online schools which can offer you high-quality courses for a low price.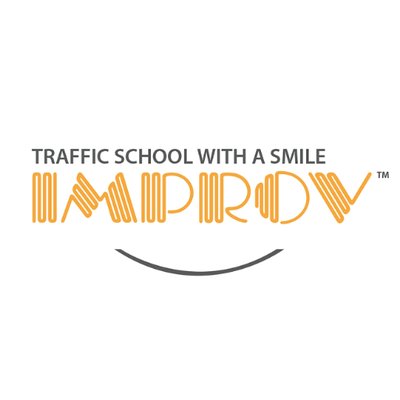 This traffic school has a unique concept of teaching in general. They are a bundle of Hollywood comedians who understand the boredness of conventional teaching/learning.
So,  they came up with the strategy to implement more fun and comedy into the courses in general. They even came up with the expression ''edutainment'. Began with the implementation of online traffic schooling before California started offering this option. Back in the 90's they had the most unique business model. If you're up for low-waged comedian jokes and having fun while learning this school should be your choice.
Fast, easy, cheap, fun educational process, money back policy is what you get here, and it's a hell of a deal.
If you are a technology nerd and idolizer, then this user-friendly and advanced traffic school is the right choice for you. Aceable have created an app for any device you need(Apple, Android etc.).
 Most of the schools have app options and they are mobile or tablet friendly. But, this school's app gives you the best and smoothest user platform. With this, it most certainly deserves to be placed as one of the best online traffic schools.

The marketing strategy this school has it says:
 -'' We have the lowest price on the market. If you find lower we will match or knock down the price''-
I guess it's a good strategy if they are up to what they assert. Courses are cutting-edge now since they upgraded their system of work.
The upgrades were implemented on the user platform, they became more mobile-friendly and have all kinds of interactive videos, features and games to help you educate yourself. Since you have to successfully pass 6 quizzes in California to move on, it's good to know that they are much easier now.
If we were to create an ideal online traffic schooling system we would most certainly pay attention to drivers programs for teenagers, animated educational videos, our app availability, app smoothness and speed and the low price.
DriversEd.com has focused on these things precisely, to provide the best service to teenagers above everyone. 
They began their journey in the 90's firstly created as an online drivers ed for teens. Since the school has online traffic courses at a low price, works on mobile and juices up the learning program with videos, it can be said it's one of our top choices to consider.
Final Words
Whether you need to dismiss a traffic ticket, reduce auto insurance rates or reduce driving points you will want to finish everything fast. You need cheap and effective options loaded with professionalism. The schools we reviewed have these qualities, but, there always will be the best of the best.
With their effectiveness, professional approach, high-quality courses, point reduction and ticket dismissal certification, our best driving school choice is ''DriversEd.com''. They are the fastest traffic school allowed in California.
We placed the Hollywood comedians school ''Improve'' in the most entertaining section. Regardless of their fun approach, they don't blemish the professional one. Overall, you need to know, they are also the cheapest school.  With their hilariously fun course materials', videos and quizzes related to safe driving they segregate themselves from the other schools.
NO SPAM, JUST STORIES.
Subscribe to the Ridester.com newsletter and never miss a gig-economy story.
*We don't spam, we promise.
iDriveSafelys' professional approach and their customer support system places them in the category 'the most professional'. And being one of the oldest schools gives weight to the brand.
''Go to'' traffic school has the strategic attitude of someone willing to succeed at any cost. The courses face value and clients' are satisfied with the recently upgraded system.
''Aceable'' traffic school is more of a '' millennial'' type of school since the system is based mostly on online learning. Which is good for the new generations of students'.
NO SPAM, JUST STORIES.
Subscribe to the Ridester.com newsletter and never miss a gig-economy story.
*We don't spam, we promise.