A couple of years ago, your friends would have laughed at you until their ribs hurt if you told them that you are shopping for an electric scooter to haul your 300+ lbs worth of weight.
Not anymore nowadays!
Today, you have 10's of choices at your disposal as you endeavor to acquire your perfect ride.
After taking our ample time to test different models, we were able to come up with perfect rides that won't make you look like a T-rex, all thanks to your stature. 
An important point as you shop for an electric scooter for large adults, though, is that you will need to acquire the right safety gear.
Let's dig deeper now into the finer details. 
Comparison Table for Large Adult Electric Scooters
[table id=20 /]
1) Kaabo Wolf Warrior 11+: The Best Overall for serious riders
If you are a large adult weighing up to 450 lbs, then the Kaabo Wolf Warrior 11+ is the ultimate beast you would ever need to unleash the warrior in you.
Based on a 400 lbs reviewer, he was able to accelerate from 0 to 20 miles per hour in just 2.7 seconds!
The top speed we recorded was 45 miles per hour while the top range we recorded was 65 miles at ECO Mode and 40 miles at Turbo Mode.
One of the points to note, though, with the Wolf Warrior 11+ is that this is a heavy beast.
Weighing a whopping 101 lbs, you definitely expect to break a sweat if you are to carry the beauty around. 
Do you pass through hilly terrains?
The Warrior 11 isn't limited in any way.
We are happy to let you know that we had a 25% hill-climbing ability at a top speed of 50 km/h with this beauty.
It's definitely one of the sturdiest scooters we have ever tested. 
Are you worried about the charging time? The Warrior gets completely charged within 6 hours if you are using a fast charger, which is quite commendable.
Another important point to explain why the Warrior is so excellent is the fact that it features dual 2400W motors, with the peak output being 5400W.
Besides, it features a 2100 Watt-Hour battery; 60V, 35 Ah. 
About the riding experience, we can confidently say that we aren't ashamed to rank the Kaabo Wolf Warrior 11+ as the best electric scooter for fat adults.
The 11" tires chew mud and tough terrains exactly the same way a wolf would gnaw its prey. 
However, the Warrior 11+ doesn't come without a couple of cons.
Firstly, you cannot in any way describe this electric scooter as portable.
45kg worth of weight makes it inconvenient for adults who stay upstairs. 
Secondly, the IPX4 water resistance rating doesn't rock.
If only Kaabo and MiniMotors would ensure that this beauty had an IPX6 rating and above. 
2) Wolf King: Long live the King
If you love being recognized like the king you are, then the Kaabo Wolf King electric scooter is what you desperately need to always ride.
Charging in only 5 hours (using a fast charger), you really don't have to wait until it's overnight so that you can wake up in the morning with a fully-charged gadget.
An interesting spec with the King is the fact that it can haul up to 400 lbs of weight.
Based on our 320 lbs reviewer, we have a couple of observations to make. 
We achieved a top speed of 58 miles per hour, which is recommendable.
Our tested top range while riding the King was 48 miles.
As far as the acceleration is concerned, we were able to go from 0 to 50 km/h in just 5.3 seconds. 
About the overall ride quality, we were genuinely happy to note that the King has no stem wobble, which is also the case with the Wolf Warrior 11+ and the Wolf King GT Pro.
Thumbs up, Kaabo. 
What makes us loathe the King is the fact that it weighs a whopping 105 lbs, but then it's understandable.
Wobble-free stems sometimes mean the manufacturing components get manufactured using legit materials. 
The King features a dual 1500-Watt motor and a 28 AH, 72V battery.
Could these two specs explain more about the range and the top speed?
Your guess is as good as mine! 
Do you love relatively big tires?
Then the King has got you covered. 11-inch tubeless tires are massive enough to go even offroad.
At a sandy place, we noticed that the King does well but not as exceptional as its newest version – Wolf King GT Pro does. 
Another thing is that this scooter measures 59" x 24.6" x 19" when folded.
As such, you may need to be careful as you keep it in your car's trunk. 
Another important point to note as you fold this e-scooter is the fact that the process isn't as seamless, and this owes to its length and the folding mechanism being relatively tight.
3) Vsett 11+: Premium scooter for riders worth their salt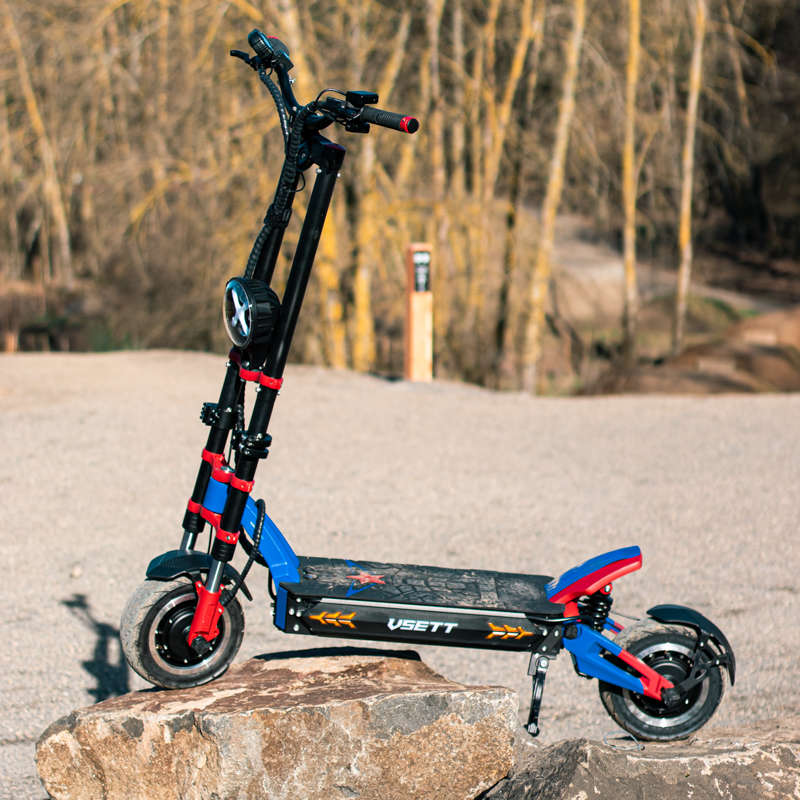 From a close view, you will definitely love the commandeering appearance exhibited by Vsett 11+.
One of the newest models of 2021, this electric scooter boasts of range more than anything else. 
One of the critical things you need to know about the 11+ is that this 330 lbs scooter is a premium model which will set you more than $3000 back.
While it's almost $500 more expensive than its utmost competitor – Yume X7, the Vsett 11+ e-scooter has a relatively better build quality.
When we test-rode it, we can confidently tell you that it perfectly fits fat riders who love wide handlebars.
The handlebars measure 27.5 inches, which makes riding more comfortable.
Narrow handlebars definitely mean control is a problem and tiredness may actually make you lose focus and cause an unanticipated accident!
The handgrips are also ergonomically-shaped which is an awesome improvement to its earlier version – the Zero 11X.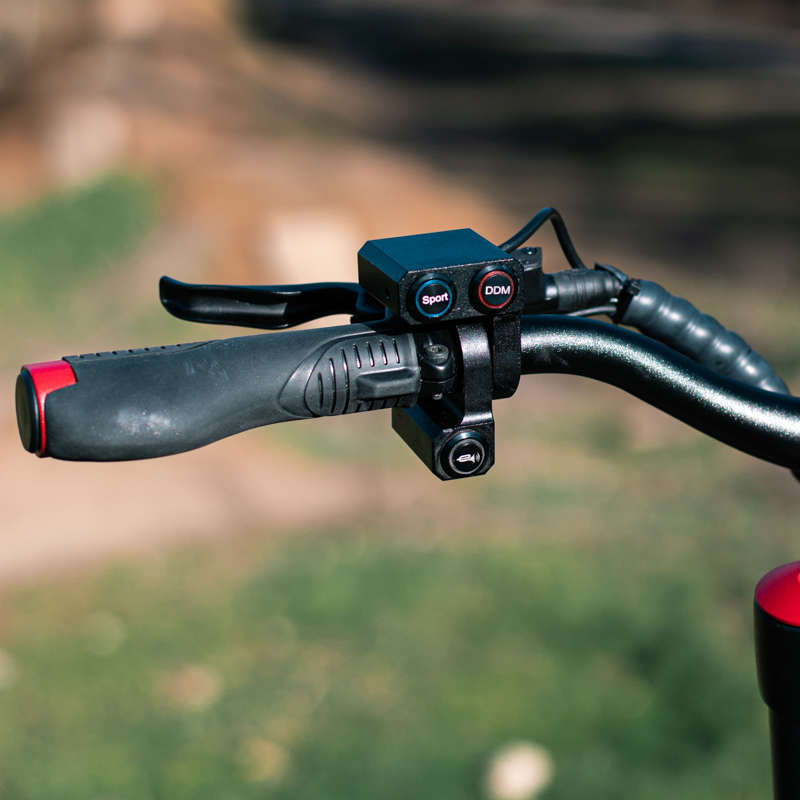 For the top speed, the dual 3000W motors will help you reach a top speed of 53 miles per hour in no time.
Based on a 265 lbs rider, we were able to hit 46 miles per hour without breaking a sweat. 
For the range, we can say thumbs up to the battery.
The Vsett 11+ e-scooter comes in two battery versions; 60V 31.2 Ah and 60V 42 Ah.
We tested the latter and achieved a 120 miles top range (but the manufacturer says 140) at the slowest speeds and 62 miles at aggressive speed rides. 
For climbing hilly terrains, Vsett 11+ is a killer beast for sure.
We are happy to let you know that we climbed an inclination of 30 degrees using the Sport Mode and crushed it in just 2.6 seconds!
If you pass through relatively hilly terrains, then the Vsett 11+ electric scooter will ultimately do you justice.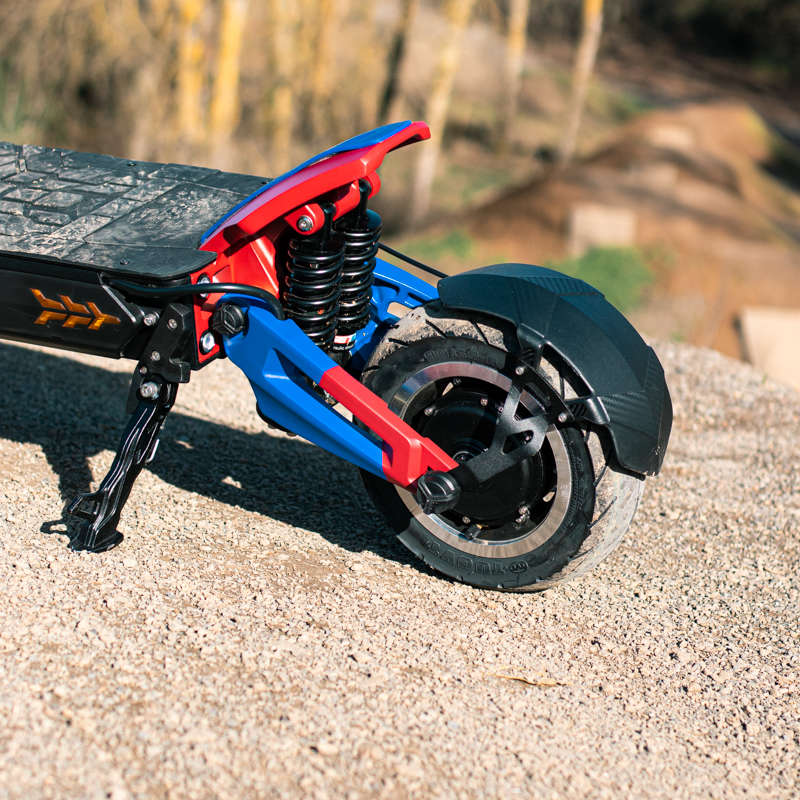 However, the Vsett 11+ isn't without some downlights.
Firstly, we noticed that this scooter weighs a whopping 128 lbs – more than any other we have ever tested.
This means it isn't ideal for commuter riders who would let's say want to keep it in a train or go through stairs. 
Secondly, for the beast this expensive, if only it could come with bigger tires.
While 11by4-inch tires aren't small, they could have worked with 13-inch tires.
For its price, massive riders definitely deserve to enjoy a great ground clearance. 
4) Yume X7: Off-road with confidence
One of the critical factors for gigantic adults to consider as they shop for their perfect rides is the tires, and Yume X7 doesn't disappoint in this.
Coming with 13-inch off-road tires, Yume X7 is premium stuff for premium off-roaders. 
If you weigh up to 150kg, then Yume X7 is ideal for you.
The tire diameter is 11 inches and this makes suspension and ground clearance enhanced even further. 
For the deck size, we love the fact that it measures 61cm in length and 26cm in width.
One of the critical advantages of wide decks is that big riders can comfortably stand or sit without much worry about their feet slipping. 
Another incredible feature of the Yume X7 electric scooter for big guys is its incredible lighting.
In fact, we test ride the gadget in the night and we safely obtained all the details we needed.
On the front, it features 4 bright headlights. 
On the sides of the deck, there are also acrylic deck lights and this means other road users can notice you well at night, thus reducing your chances of being involved in an electric scooter accident.
Another safety feature we loved about the X7 is that it features four loud horns.
This is a killer feature when it comes to passing near pedestrians as you could help yourself from causing an unanticipated accident. 
When it comes to the actual riding experience now, we have a couple of observations to make.
Once you buy a Yume X7, they throw a seat as part of a gift for you which is too generous of them. 
While seated, we noticed that there are no stem wobbles and that the comfort is great both on road and offroad.
The seat has a built-in shock absorption mechanism.
When mixed with the front and rear shock absorbers, you can confidently say that this is the perfect electric scooter for off road enthusiasts. 
Once we removed the seat that very night, we noticed that there are also no stem wobbles! On the deck, the grip tape is firm enough but Yume could definitely do better.
We noticed that the grip tape had a couple of scratches after passing through sandy terrain.
If you are a perfectionist, you could order a clear grip tape to enhance its tip-top shape. 
For the top speed, we achieved 51 miles per hour at aggressive speeds and a top range of 62 miles.
For the slow speeds, we achieved 58 miles per hour which is good, and a top range of 83 miles.
This is all thanks to the dual 8000W motors and 72V 45Ah Li battery. 
For the hill climb, we climbed a 30-degree inclination at 2.6 seconds while in Turbo Mode.
This is a fast acceleration in any case. 
However, two things we would love to say is that Yume X7 is a heavy beast – weighs 120 lbs and that it has an IP54 water resistance rating.
As such, you would need to avoid water as much as possible. 
Read our detailed Yume X7 e-scooter review.
Also, read Yume Brand's e-scooters review.
5) Emove Cruiser: The Best Budget Big Dawgs Ride
One of the many reasons why many people love the Emove Cruiser e-scooter is the fact that it is an affordable ride below $1500 and can carry big dawgs weighing up to 352 lbs.
Another reason to love the Cruiser is that it features an IPX6 water resistance rating.
Riding under light rains or light icy conditions won't disappoint this beast. 
Another recommendable feature about the Cruiser is that it weighs only 52 lbs, which makes it a great commuter e-scooter.
One of the reasons why the Cruiser is this light is that it has a single motor. 
After riding it based on a 300 lbs adult, we got our top speed at 28 miles per hour and  top range of 53 miles.
This is not so far from the mentioned top speed of 32 mph and a 62 miles range. 
Basically, if you are interested more in the range and less in speed, but without breaking the bank, then the Cruiser is your perfect single-motor e-scooter.
An important point to note, though, is that the Cruiser struggles a lot off-road.
This is all thanks to the single motor and small tires – 10 inches.
Another thing to note is that if you are a speed enthusiast, then the Cruiser isn't great for you. 
Would you be comfortable riding the single-motor Emove Cruiser electric scooter?
If not, then we have other similarly priced beasts such as the Yume Y10 and Yume D5. 
6) Yume X11: The Best Value Scooter with a Golden Finish
Did you know that you can buy an electric scooter with a damper for less than $2000? Well, the Gold Yume X11 is here to surprise you.
Featuring a wide deck and 11-inch offroad tires, Yume X11 greatly impressed us both on-road and offroad.
Firstly, fast electric scooters can easily disappoint the rider.
Yume noticed this early enough and decided to manufacture the X11 with a damper from the get-go.
Our overall riding experience both on-road and off-road can be described as excellent!
Also, while others prefer hybrid tires, Yume includes 11by4-inch off-road tires.
This makes the scooter excel both on and off the road.
There is no cause for worry as you crush those so-called rough terrains with the X11.
However, it's vital to also note that fast cornering will be futile with these kinds of tires. 
As for the top speed, we reached 54.8 miles per hour based on a 278 lbs rider.
Our tested top range is 52 miles.
We can attribute these two to the dual 5000W motors and the 35Ah 60V Li battery. 
Importantly, note that Yume X11 is a heavy electric scooter for big guys.
Weighing a whopping 110 lbs, it means commuting with this beast could be a trouble, especially if it means carrying it around staircases. 
Just like Yume X7, the X11 features a killer lighting system, which means night rides wouldn't be much of a bother.
These are turn signals, brake lights, and a bright headlight. 
Among the places where Yume can improve is to make the handlebars wider, lengthen the damper, and also use better fenders.
I didn't like how fast the rear fender broke. 
Read our detailed Yume X11 e-scooter review.
7) Yume Y11: Versatility comes in handy
For less than $1850, the Yume Y11 can be yours today.
Featuring a dual 6000-watt motor, we were happy to test-ride this, and based on a 275 lbs rider, we recorded a top speed of 47 miles per hour. 
Our range topped at 46 miles, which is in any way commendable for the price.
Featuring 11-inch off-road tires, the Yume Y11 e-scooter has a killer shock absorption mechanism, especially with the double front springs and rear shock absorbers. 
One of the top Y11 competitors is the Kaabo Mantis Pro Se which has a top speed of 45 miles per hour and a top range of 45 miles.
Comparing the two features, the Y11 is more advanced. 
Another factor to consider is their tires…While the Y11 features 11-inch offroad stuff, the Mantis has 10" pneumatic tires.
As such, Yume Y11 is more versatile.
Basically, you won't go wrong with Yume Y11. 
Read our detailed Yume Y11 e-scooter Review.
Related articles:
What are the factors to consider for an electric scooter for large adults?
1) Dual motors rock
While there are some great single-motor electric scooters such as the Emove Cruiser, you will need to do your best to acquire a dual-motor e-scooter.
This is so because a single-motor gadget usually struggles off-road and when doing hill climbs.
Also, dual motors mostly translate to higher speeds.
Ensure that you get a dual-motor electric scooter, and especially one with nominal power above 1100 watts. 
2) Consider the deck size
The deck size and the build quality make a crucial part of the overall riding experience.
An e-scooter with a narrow deck will most likely make your feet slip or even make you more tired owing to staying confined.
As such, ensure that the deck is wide enough to fit your feet.
3) Check the weight limit
There is nothing more painful than having an escooter breaking while you are at your top speed.
While this happens rarely, you will need to ensure that the weight limit of the e-scooter goes along with your weight. 
If need be, opt for a scooter with a loading capacity that is 50 lbs more than yours.
For instance, if you weigh 375 lbs, go for the Wolf Warrior 11+ with a weight limit of 450 lbs.
That way, you will ride safely and can carry a backpack without much worry. 
4) Top range and speed
While the manufacturer can say that an e-scooter has a top speed of 50 miles per hour and a top range of 50 miles, that is mostly dependent on the weight of the rider who tested it, the riding conditions, and the speed mode engaged.
As such, ensure that you know the basis of the riding conditions and weight of the rider before concluding that an e-scooter has a specific range and speed.
The rule of thumb is that if you are a large adult, then the top range and speed will be lower by let's say from 10% to 30% or even more than the advertised.
5) The build quality
You don't wish to see your beloved e-scooter breaking or your bucks going down the drain.
As such, due diligence is primal in ensuring you are getting a premium product. 
Online reviews can come really handy.
If you see red flags touching on the build quality, then turn the other way round regardless of how that gadget had impressed you.
Safety first, value for money next. 
Wear the right safety gear
Just like you, I always need to be as safe as possible.
However, nothing is guaranteed in this world and as such, you have to wear the proper electric scooter riding gear if safety means anything to you.
For my weight, I honestly lack the cat-like flexes and so I couldn't avoid an accident fast as I would when in my teens.
If you are anything like me, here me well – Wear the effing gear.
Doesn't matter how uncomfortable you feel.