If anyone has ever told you that performer electric scooters have to be extremely expensive, then they couldn't be more wrong.
For those looking for the best electric scooters under $1000, then the YUME S10 is almost always present.
In this YUME S10 review, we will be happy to delve deeper and let you know our findings if anything needs to change, and so on.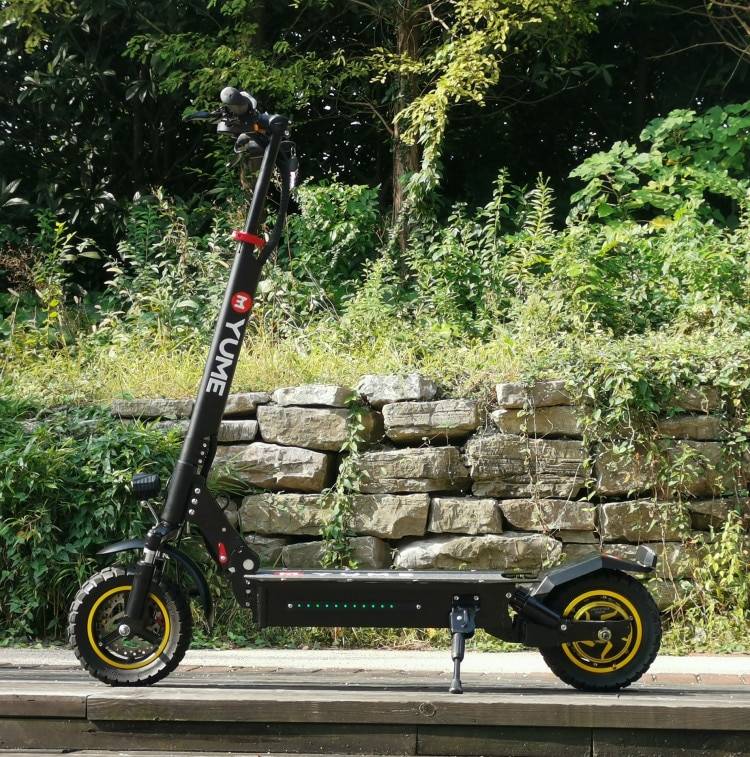 To save $100 this Christmas while buying YUME S10, use YMMCS10 as your coupon code. This limited deal is available as stocks last.
YUME S10 Specs
| | |
| --- | --- |
| Top Speed | 30 miles per hour |
| Top Range | 30 miles |
| Motor | Single 1000W |
| Battery | 21Ah; 48V |
| Braking | Rear and Front; Disc |
| Weight | 60 lbs |
| Weight Limit | 264 lbs |
| Tires | 10 inches |
| Suspension | Front hydraulic; Spring rear |
| Foldability | Foldable in seconds |
| Water resistance | IP54 Rating |
| Frame material | Ferroalloy/Aluminum |
| Lights | Front, side, brake |
| Charging ports | Single |
| Seller | Yumeway |
| Coupon | AMOS-S10 |
Our Full YUME S10 Electric Scooter Review
When I took the YUME S10 stand up electric scooter for a spin, one of the things I loved about it is that I didn't feel any stem wobble over the 20+ kilometers I rode it.
Definitely, stem wobbles suck and any serious rider will tell you that they cannot wish that any of their worst enemies face it!
When you spend just $800 for an adult electric scooter, you will undeniably be anxious about its ride quality, right? Well, I am confident to let you know that YUME S10 is a solid ride that will offer you maximum riding comfort.
1) YUME S10 Manufacturing
Grip matters a lot in how an e scooter enhances comfort and thankfully, Yumeway had that in mind as they were manufacturing the S10.
This electric scooter has a perfect grip for the hand and you wouldn't have to worry about slipping in the case of hitting a bump or going through rough terrains!
For the size, the handlebars to deck have a maximum size of 970mm, while 740mm is the minimum size.
Riders deserve to step on perfectly-sized decks and YUME S10 comes with a 590mm by 225mm deck.
The grip tape is firm enough such that you won't slip as you pass through any type of surface.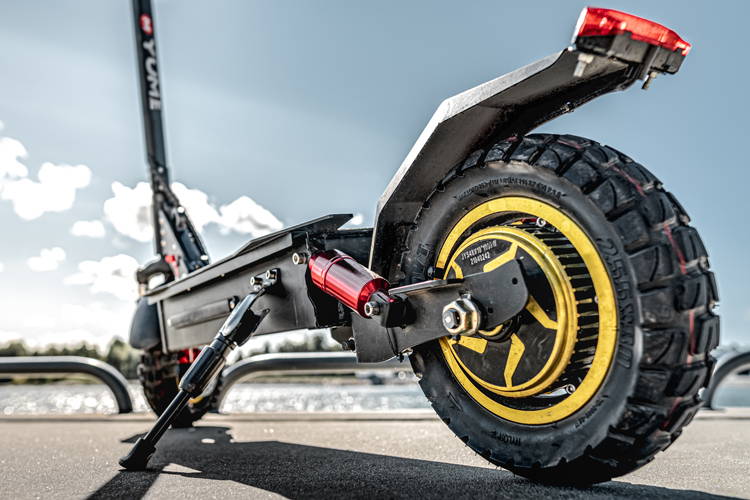 Without sugarcoating anything, the YUME S10 electric scooter won't be as fun since it comes in a single 1000W motor with a hall sensor.
Heavy dawgs about 250 lbs definitely need to ride dual-motor electric scooters such as YUME Y10.
However, something worth considering is the fact dual-motor YUME electric scooters are always on the heavier side as compared to the S10 or YUME H10.
With that in mind, note that the S10 will best fit you if you are on a budget, aren't looking for a long-range (commuter scooter) or you work/stay upstairs and lack the energy to carry 100 lbs of weight.
The material used in manufacturing an electric scooter's frame plays a critical role in the safety of the rider, portability, and foldability.
The S10 is manufactured using ferroalloy/aluminum.
The frame material, coupled with a single motor explains why this e-scooter is only 27kg and can haul a 260-pound rider without breaking a sweat.
A critical factor to consider when shopping for a new electric scooter is how safe you will be as the rider.
YUME S10 comes with disc brakes at the rear and front.
Disc brakes offer smooth halting when need be but they aren't as safe as hydraulic ABS brakes.
This is one of the vital things to note about the S10.
Secondly, YUME S10 comes with bright LED front lights.
On the side, there are LED strip lights and there are also turn signals and brake lights.
All these lights are great to enhance visibility among other road users that there is an epic e-scooter passing.
The front LED lights are great for the rider to improve their visibility, especially during night rides and when the weather isn't as clear.
Do you use rough-terrain pathways?
Then take care of your bums, all thanks to the Double Hydraulic front suspension and the rear double springs.
Besides, you have an audible horn on the handlebars as an added safety measure.
Lastly, the entire e-scooter is covered with an IP54 water resistance rating.
This means riding in light rains is okay and you won't have to worry so much about damaging your e-scooter.
However, IPX6 or even IPX7-rated e-scooters are the best when it comes to coming in contact with water.
If for whatever reason you can't stand for long, you can include a seat in your S10 and enjoy your ride.
Besides, the 10-inch tires offroad tires are okay to raise the ground clearance and enhance comfort while riding.
However, bigger tires are better such as those in YUME X7 and Yume X13.
Do you wanna know what gear you have engaged in?
Your speed?
The remaining battery power?
Or even the time of the day?
Yume S10 comes with a smart display that you can adjust to set the riding mode.
The S10 has a single charging port and using the standard 2A charger gets the job done.
I was able to charge it for 5 hours.
2) YUME S10 Top Speed and Range
When I rode the YUME S10, I got a top speed of 29.57 mph and a range of 47km in a single charge.
This is within the manufacturer's top speed and range (30mph; 30 miles).
As they have disclosed, these two depend on the riding conditions, rider's weight, and the juice left.
3) YUME S10 Pros
Portable
Easy to assemble, fold, and ride
A great budget electric scooter
Great tires with killer anti-slipping treads.
4) YUME S10 Cons
Not fully waterproof
Single motor means it's underpowered
Best Accessories to order along with YUME S10
While YUME S10 currently comes with a seat as a gift, it's worth it to ensure that if the offer is over, you get one as it's totally worth it.
Besides, you may need to also order a carrying bag, elbow and knee pads, and lastly, a pair of extra wheels.
The fun you will have will get you riding until the tires wear off completely and remembering to order others at that time will spoil the party.
Interested to know the electric scooter safety gear you desperately need? Read our blog post on the same.
Where Can I Buy YUME S10
You can buy YUME s10 on the official website or on AliExpress.
What is the best YUME S10 Alternative?
The Emove Touring from Voro Motors is the ultimate YUME S10 alternative.
It has a higher weight limit, more portable and actually more affordable than the S10.
Check the specs below:
| | |
| --- | --- |
| Top Speed | 25 miles per hour |
| Top Range | 25 miles |
| Braking | Electronic and drum (rear) |
| Weight | 39 lbs |
| Weight Limit | 308 lbs |
| Water resistance | IP54 |
| Suspension | Rear spring (dual); front triple |
| Tire size | 8 inches |
| Peak motor power | 750W |
| Battery | 13Ah; 48V |
| Throttle | Finger |
| Charging time | 6.5 hours |
| Starting Price | $899 |
| Seller | Voro Motors |
| Coupon Code | ES-ARENA (7% off) |
If you are in the USA and are interested in receiving your gadget as fast as possible, then the Emove Touring electric scooter will be the best for you.
YUME electric scooters may take relatively longer to get to the US, specifically if they are shipping from the factory warehouse.
Related: YUME brand electric scooters review.