If you thought the YUME X7 was the most buttery smooth king of electric scooting, then your train of thought was flawed.
We now have the stylish, colorful, and all-new YUME X13 scooter ready to command what mad fun means.
Having taken all the impressive specs we had recently seen from the earlier YUME Ohvation model, the X13 won't just sit idly and see its predecessor taking all the accolades.
With the potential to go at a top speed of 100km/h based on a 60kg rider and with little to no stem wobbles, few electric scooters can match what the X13 has to offer for its price.
You can use YMMCX13 as your coupon code to save $600 as you shop for the YUME X13 e-scooter this Christmas. To use the coupon, click "Buy It Now" on the YUME website, Click "Show Order Summary" and type the discount code there. You will get the scooter for $600 off. This massive deal is available as stocks last.
Our Full YUME X13 Review
YUME X13 Specs
| | |
| --- | --- |
| Our Tested Top Speed | 60.5 miles per hour |
| Our Tested Top Range | 68.7 miles |
| Motors | Dual; 8000 Watts |
| Battery | 72V; 40.5 Ah |
| Lights | 3 front LED, brake, and turn signals |
| Braking | Hydraulic disc |
| Wheel size | 13 inches |
| Controllers | Dual; sinewave |
| Charging time | 6 hours with dual chargers |
| Frame material | Aluminum alloy |
| Hill climbing ability | 35° |
| Suspension | Dual front hydraulic; rear spring |
| Water resistance rating | IP54 |
| Weight | 141 lbs |
| Weight Limit | 330 lbs |
Is YUME X13 for you?
The X13 will perfectly fit riders who are transitioning from mid-range spec scooters to a high-end riding experience.
With the potential to go for more than 60 miles per hour, veteran electric scooter riders have something in store for themselves with this YUME creation.
However, saying that the X13 is portable is absolutely an hyperbole.
Weighing a whopping 64kg, you will definitely not like it to carry such a beast upstairs.
As such, YUME X13 isn't perfect for those looking for portability.
If foldability is a critical factor for your consideration, then the X13 is perfect for you.
Folding and unfolding within a maximum of 5 seconds, then you got this.
Does YUME X13 provide value for money?
YUME X13 currently retails at $2999.
For most of us, this is definitely a high price tag.
So, does the X13 stand up for this price?
Wll, I can confidently tell you that it offers a bang for each buck spent.
For its specs, I can currently see none of its competitors outdoing the X13 in terms of pricing.
Some of its competitors such as Dualtron Storm go for more than $4400 and the best speed you can get is only 55 miles per hour.
YUME X13 Construction
Handlebars
The X13 comes with 72cm long and 3.18cm diameter sporting handlebars that are unfoldable.
These are one of the most unique rubber handlebars.
Regardless of a tall height, these handlebars are accommodating enough to enhance the comfort while riding.
If you are a fanatic of attaching accessories such as a smartphone holder or even GoPro on a handlebar, then the X13 has a stock bar tailored explicitly for such.
On the right handside of the handlebars, there is the cockpit to help you with controlling and activating the scooter the best way you can.
For the tall riders, YUME X13 perfectly fits them as the handlebar to deck size is 78cm.
Shorter riders also feel more comfortable while standing as that height also fits them.
Frame
The X13 has maintained the earlier Ohvation's frame design.
With an aviation-grade aluminum frame that has been heat-treated, The frame was constructed with sturdiness in mind, which means even the biggest dawgs have their confidence upheld.
Tires
Tires form an integral part towards the riding experience and as you perhaps are aware, YUME doesn't disappoint when it comes to manufacturing big-tire electric scooters.
YUME X13 comes with 13-inch pneumatic street tires, which means off-roading and climbing hilly terrains isn't a pipedream.
When riding, the tires also enhance a better ground clearance, where, there is a 20cm difference between the deck and the ground.
Motors
The YUME X13 electric scooter features dual 8000W motors with a hall sensor.
Each of these motors is 4000W and it is one of the critical reasons why the scooter can go at those neck-breaking speeds.
The manufacturer says that the top speed for this model is 63 miles per hour, based on a 60kg rider but we were able to hit 60.5 mph based on a 69kgs experienced rider.
Battery
YUME X13 features a 72V 40.5Ah battery.
Based on a 60kg rider, they recorded a top speed of 70 miles but we were able to hit a 68.7 top mileage before the battery asked for more juice.
When charging using a single charger, you will need at least 12 hours of charging to get from 0 to 100% charged.
However, since this scooter has dual charging ports, you can fully charge this scooter in 6 hours.
The Deck
Wide decks absolutely rock as they can accommodate riders of different sizes.
YUME X13 comes with a 62cm by 29cm wide deck, which is perfect.
The X13 deck is grippy, which makes slipping relatively hard and enhances comfort for the feet.
Suspension
Suspension is a critical factor to consider while shopping for an electric scooter and YUME X13 has some of the most unique types of suspensions.
On the front, it features a dual hydraulic suspension.
On the rear side, the X13 comes with a KS spring suspension (with a distance of 15.5cm).
The best thing with suspensions at the rear and the front is that even when riding in rough-terrain surfaces, they help with absorbing any type of shock, enhances comfort, and saves your bums from the effect (just kidding).
Braking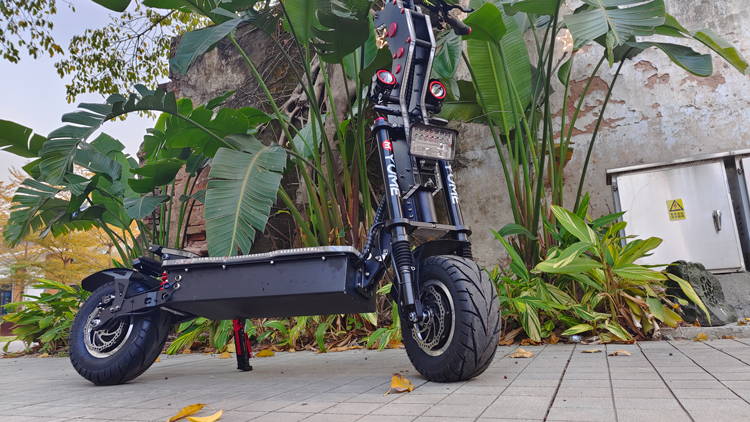 Drawing its stopping power from rear and front hydraulic brakes fitted with a 16cm rotor and a cooling fin pad, you can expect that the X13 will come to a halt exactly when needed.
When going at a top speed of 50mph, you can expect the X13 to stop in just 4 meters, which is super powerful for a beast its size.
Lights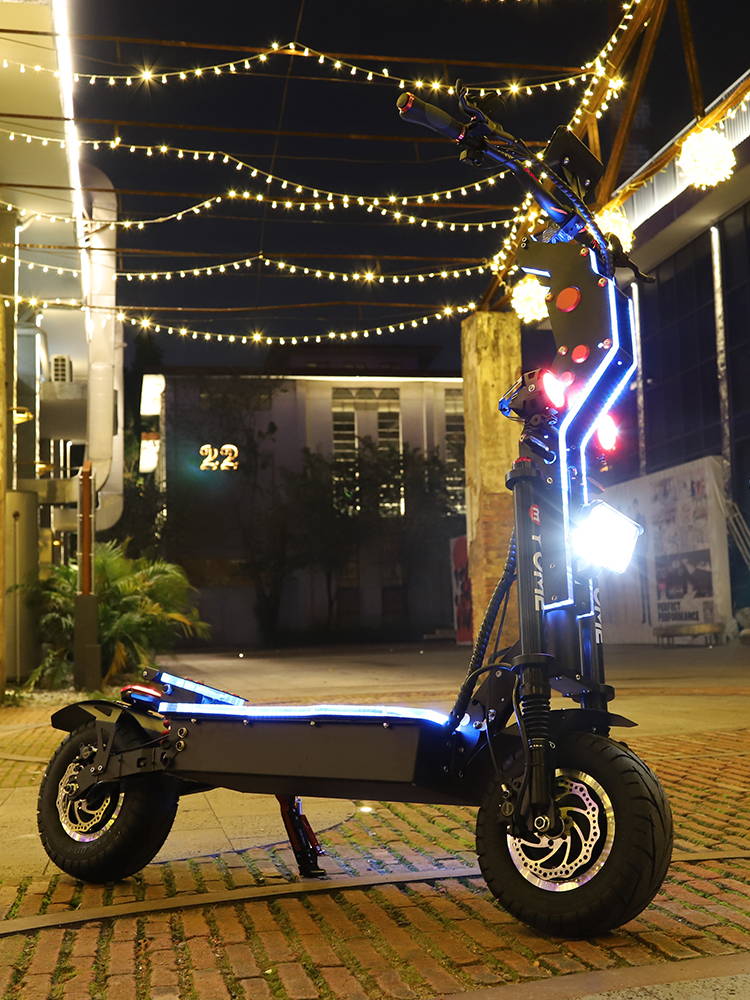 As a night rider, lights come in handy for safety purposes.
When riding the X13 in a dimly lit environment, you will be greeted with 2 massive LED lights at the front and a big square light just below those two.
On the rear and the front, too, there are also turn signals to make turning safer for you and any other road users.
The acrylic board features stem lights, deck lights, and more acrylic lights at the rear.
While riding when it's relatively dark, all the attention will undoubtedly be shifted towards your side.
As if that's not enough, you will hear others say, "Oh boy, that thing is sick!"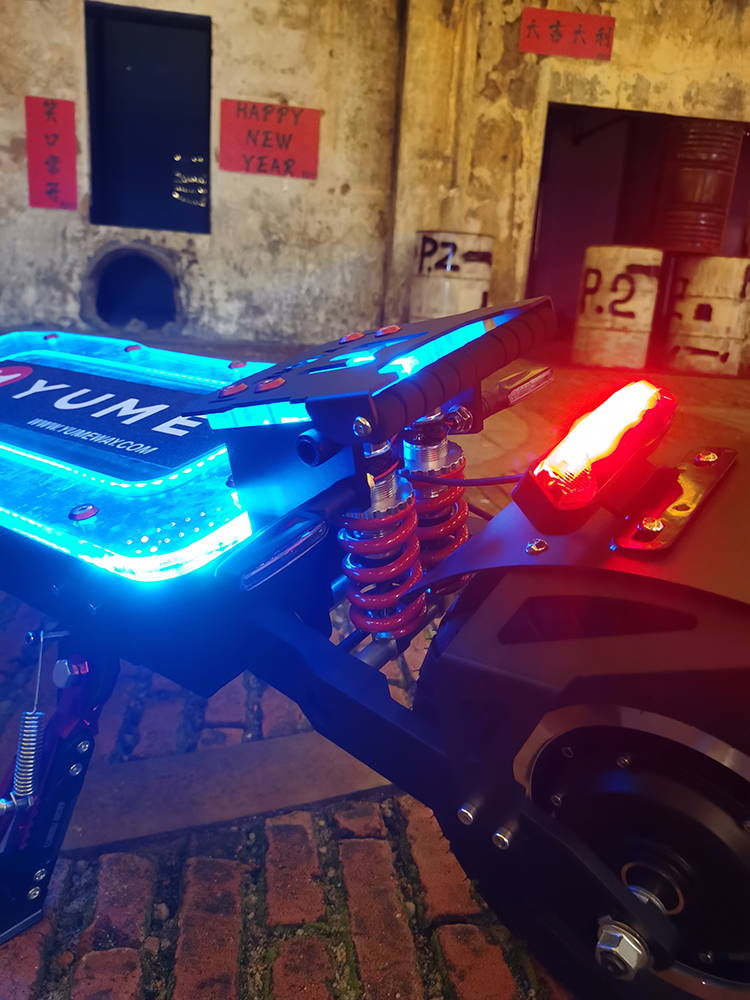 Controllers
The X13 comes with a 72V sinewave controller and a 2X50A 18 Mosfet controller.
With a high motor output, you absolutely can't expect a beast this size to have two feeble controllers or even a single one.
The Cockpit
On the center of the handlebars is the big display.
It showcases the riding mode, speed, and battery.
You can also set the riding mode on this display.
On the right-side of the handlebars, there is a LED DAMAO Smart display that showcases the gear engaged, speed you are riding, the battery levels, and the time.
Next to this LED display on the right is the finger throttle and below the two are two more buttons for choosing between single and dual motors, and then ECO or Turbo Modes.
The DAMAO smart display is protected by a built-in overheat protection and an IP65 water resistance rating.
On the left-side of the handlebars, there is the ignition, horn and turn signal buttons.
There is also a button at the top of these which can be used to turn ON the lights and turn them off.
Foldability
The YUME X13 scooter is foldable, and folds and unfolds in just 5 seconds.
Despite being foldable, this e-scooter cannot be described as portable or even lightweight.
When folded, the X13 measures 145cm by 69cm by 63cm.
When unfolded, YUME X13 measures 145 by 29 by 133cm.
YUME X13 Riding Experience: YUME X13 Review
While riding an electric scooter, comfort rocks and should be embraced.
As you buy a YUME X13 scooter, it comes with a seat.
The seat, coupled with the hydraulic suspension system makes riding superb.
 Additionally, the X13 features 13-inch pneumatic street tires, wide and tall handlebars, and a sturdy stem.
These make riding as fun as it could be.
As you start the X13, the motor is mostly silent and you could actually wonder if there is any motion going on.
However, you will need to stay set as this scooter just gets up and goes. Being very fast, you will need to be prepared enough before hitting the throttle, especially if you lack cat-like flexes.
When climbing a hill, you can climb a hilly terrain with a 35-degree incline without much worry.
Water resistance
The YUME X13 electric scooter has an IP54 water-resistance rating.
We have to call out YUME here.
This scooter deserves a water resistance rating of at least IPX6.
With an IP54 rating, riding under light showers or even in winter could be problematic to the electric parts of this scooter.
YUME can do better than this.
For better water resistance, you can loctite your scooter to prevent splashes of water or even fine mud from getting inside the beauty.
YUME X13 Pros
Offers the best bang for the buck in its class
A unique manufacturing design
Bright lights that keep nighttime riding safer
Massive deck, frame, and tires
Fast foldability regardless of the size
Superb suspension.
YUME X13 Cons
The battery would be more premium as opposed to the Chinese cells
Poor water resistance
This scooter is bulky.
In Conclusion: YUME X13 scooter review
YUME X13 electric scooter is one of the few ones that offer the best bang for the buck.
We cannot recommend it enough for those looking into the most premium YUME Model of all time.
Do you feel that you can't have enough of YUME electric scooters?
We have an entire category of our reviewed YUME Models.