Have you ever thought that it'd reach a point where you would ride a two-wheeler at more than 55 miles per hour without breaking the bank? It's now more of a reality than a dream as we will see in this comprehensive YUME X7 electric scooter review.
After taking the YUME X7 8000W scooter for a spin, I have more love-filled in the air than hate.
Firstly, the X7 e scooter greets its admirer with 4 big and bright lights strategically placed at the upper front; 2 slightly below the cockpit and 2 more below those.
Another thing that you simply can't fail to notice is its 13 inches wide tires.
Basically, this is one of the kings of offroading that rules the jungle using an iron fist.
We could go on and on with the positives but let's see what it has to offer and if it makes the cut for the excited you.
You can save $100 if you use AMOS-X7 as your coupon code upon checking out.
YUME X7 Specs
| | |
| --- | --- |
| Stated Top Speed | 55 miles per hour |
| Stated Top Range | 80 miles |
| Motor | 8000W (dual) |
| Weight | 120 lbs |
| Weight Limit | 330 lbs |
| Lights | 4 front headlights, rear turn signal, brakes |
| Water resistance | IP54 rating |
| Battery | 45 Ah 72V; 50Ah 60V |
| Charging time | 8 hours |
| Braking | Dual; hydraulic and electronic |
| Suspension | Motorcycle Grade dual rear and front |
| Display | LED |
| Tires | 13 inches; offroad |
| Hill climbing degrees | 60° |
Our unbiased YUME X7 review
1) Is the YUME X7 for you?
No matter how impressive an electric scooter appears, and how you feel it's the best option for you, there are things that once poorly noted, then you will have a grain of regret left with yourself.
I won't sugarcoat anything here.
YUME X7 is not for you if:
You go up multiple stairs and carrying something bulky is a dilemma for you. See, 120 lbs (55kgs) worth of weight isn't logical for some if not most of us. If you work upstairs or stay upstairs and parking your e-scooter downstairs isn't possible, sorry you are out, boy!
You lack the budget or can't access reliable financing. If paying more than $2500 for an electric scooter will leave you doing calculations in your head about how much you have " wasted" and leave you in regrets, then NO, thanks. Sort the important things first before you think of the X7.
I have a problem with absolute beginners. YUMEX7 is buttery smooth and clicking the accelerator will make you feel like you are a pilot. This is not really the best electric scooter to train yourself with. You can opt for YUME S10 or choose another Yume electric scooters reviewed in this post.
Safety gear isn't your cup of tea. There are more than 10 common electric scooter accidents and it'd be worth it if you clad yourself properly. Other than saving your head, electric scooter helmets do more than that! Wear it.
2) The manufacturing of the YUME X7 scooter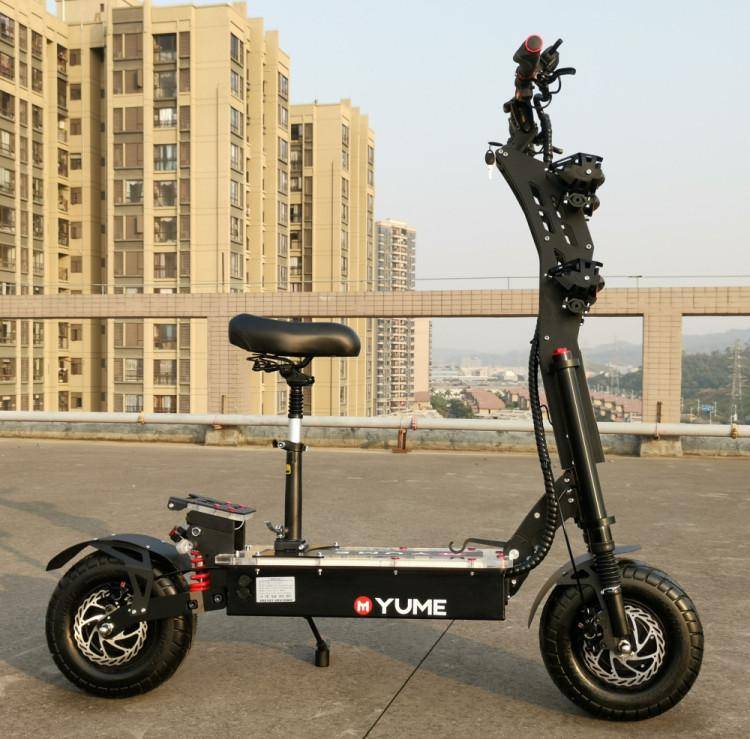 The motor
The X7 comes with a dual 8000W (each 4000W) DC, brushless motors.
8000 watts is so much power that you can rely on if you wish to go uphill or even do some off-roading.
There are lots of advantages that come with a powerful electric scooter motor and one of those is that you can conquer almost every terrain without breaking a sweat.
Not to worry about anything, though, you can select to ride in a single motor if riding at high speeds doesn't make the cut for you.
Controller: X7 e scooter
As you probably know, powerful motors are to the greatest extent useless when the controllers are wack.
YUME X7 features a 90Ah controller and when coupled with the powerful motors it has, you can easily see how it's easy to reach speeds of more than 55 miles per hour.
The deck: Best X7 deck
I am a big dawg and I love this best X7 deck.
YUMEX7 definitely served me well with its deck size.
The deck length is 61cm while the width is 26cm.
From the deck to the ground, there is a clearance of 24cm and this is all thanks to the tire size, which we are going to look at next.
Tires
I love massive tires and I absolutely cannot lie.
Not many electric scooters currently match the size of those in the X7.
In fact, the Emove RoadRunner (14 inches) and YUME X13 (13 inches) are the top scooters currently that can battle with the X7's tires.
These big tires help in raising the ground clearance to 24 cm and this means going off-road isn't an uphill task with the YUME X7.
These anti-skid offroading/street tires measure 5 inches in width and as stated, 13" in diameter.
Importantly, they are tubeless so, no worries about buying any tubes.
Handles and frame: X7 scooter review
The X7's frame is made of an aluminum alloy (aviation grade), and this guarantees maximum safety and stability.
If it were the case with most other building materials, the body's weight would be heavier as from the measurements.
The handlebars are manufactured using an ergonomic design.
This means the grip is tight but gentle enough to keep the palms relaxed enough.
Fancy features
The X7 has a large screen that showcases the time, voltage, battery percentage, and gear engaged.
If that large screen doesn't make the cut for you, then you have the option to use a LED display.
You can adjust the speed in 3 different modes, you can select from two power modes, and lastly select the motors to use from a single button.
Interested in a single mode or dual? You have a button at your disposal.
Foldability: YUME X7 Electric Scooter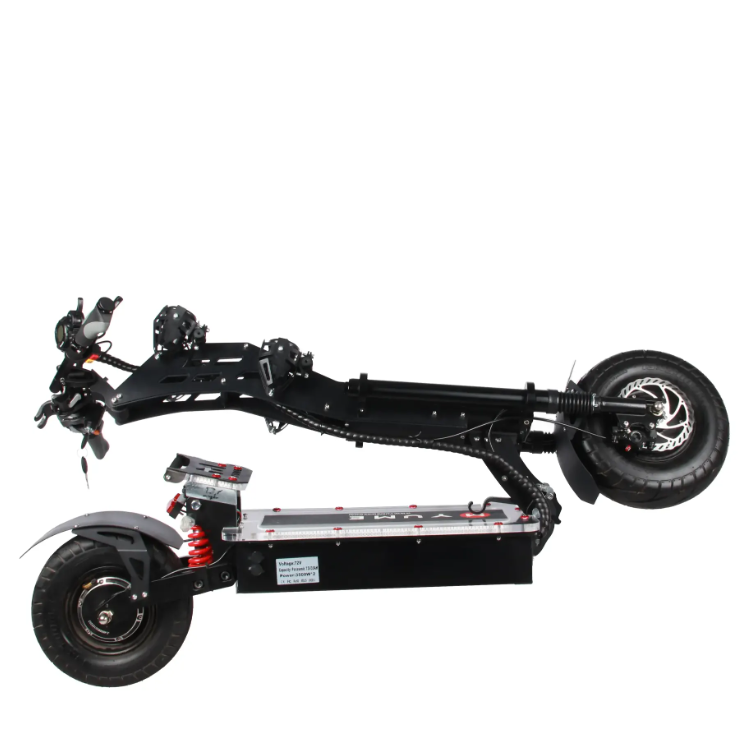 The X7 folds and unfolds in seconds.
Yumeway states that it folds in 5 seconds.
A point to note is that when folded, the X7 measures 58cm in height and 146 cm in length.
When unfolded, the length is 135cm while the height is 150cm.
These are vital details if you at one point wish to keep the e-scooter in your car's trunk.
Battery: electric scooter X7
The YUME X7 currently comes in two different battery versions.
These are 60V 50Ah, and 72V 45Ah batteries.
While using dual chargers, it takes anywhere from 8 to 10 hours to have any of the battery versions of the YUMEX7 to be fully charged.
Basically, if you are looking into knowing how much the 45 AH, 72V means, you are counting up to 3240-watt hours to deplete your power!
You will need to use dual chargers to charge this scooter in a maximum of 10 hours and thankfully, Yume already provides them along with the package in which the beauty comes in.
3) Our Tested Top Speed and Top Range
I weigh 298 lbs and for a big dawg like me, you can nod that it's hard to achieve a top speed or the top range stated by the manufacturer.
On a completely flat surface, I hit a top speed of 52.8 miles per hour on the TURBO MODE.
On a hilly terrain with a 30-degree terrain, I hit a top speed of 50.6 mph.
For the top range, I hit 73 miles on the slowest speed until the 72V 45Ah Panasonic battery got depleted.
On a fully charged battery and at the maximum speed, I hit a top range of 62 miles.
Not bad in any case.
4) Safety features
For a monster such as this, you will desperately be in the quest as you ride, right? Well, the electric scooter X7 has numerous safety features in place for you.
YUME X7 8000w comes with hydraulic and electronic breakout brakes to keep you safe.
One advantage of these as opposed to the disc brakes is that they are more sensitive to application and come to a halt faster than the traditional brakes ever would.
The electronic breakout helps immediate locking to be possible whenever one presses the brake pedal.
This accuracy ends up enhancing the safety of the rider.
Short-Circuiting is a serious threat and can lead to having an entire house burned.
To avoid this, the team at Yumeway made the X7 in such a way that it can support dual chargers, 5A fast chargers, and protection against overheating, and over-discharging.
Another thing is that Yume X7 has an under-volting sleep prompt that operates automatically.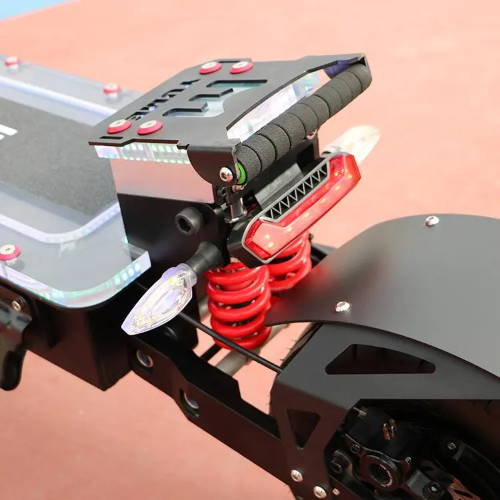 You definitely need to save your bums from the agony that comes with uncomfortable rides, especially when seated.
If you ride while standing, then you don't wish to encounter a situation whereby, you will need a therapy session.
Thankfully, the e scooter X7 comes with dual front motorcycle suspensions.
These are fully hydraulic and offer the maximum comfort that any rider worth having fun can wish for.
On the rear side, there are also dual spring shock absorbers.
Basically, you are like riding a motorcycle in the name of an e-scooter.
Killer suspension is great for enhancing stability, especially in rocky terrains that can cause safety an unimaginable threat.
Brakes aren't enough while riding and it's for this reason that the YUME X7 8000W features a motorbike-grade horn.
While it's not the loudest you will find, it's audible enough for pedestrians and other road users to hear from a distance.
The chances are high that you will more often than not find yourself riding when it's not bright enough.
One of the reasons we commend Yumeway is that they have installed the proper lights for riders of all calibers.
Bright lights are fantastic for enhancing safety while riding.
We will expound more about the YUME X7 lights below.
5) YUME X7 Lights: YUME X7 Electric Scooter Review
Bright lights are undeniably something I love and I am certain that I ain't alone.
With the e scooter X7, it features 4 bright headlights that are perfect for the nighttime rider.
If you love standing out features, then the X7 e scooter also has an acrylic light strip that is remote-control powered.
The strip contains 7 distinct color combinations; namely pink, yellow, blue, white, red, purple, and green.
The deck lights create different color combinations and this feature is mostly helpful during the night.
When switched on, pedestrians and other road users will undoubtedly see you as you cruise around.
Do you wish to make a turn? You have turn lights at the sides of the X7.
They are visible enough and any keen road user will undeniably see you.
6) Hill climbing ability: YUME scooter X7
Depending on factors such as the rider's weight, their riding experience, and the degree of the incline, you can easily achieve a hill-climbing ability of between 30 and 60°.
Personally, I was able to effortlessly climb a not-so-sloppy hill with a 55° incline.
7) YUME X7 8000W Price
Are you interested to know the YUME X7 8000W price? The starting price for YUME X7 72V 45Ah price is $2799 and has a coupon code.
Simply use Amos-X7 to save $100.
For its specs, we find the YUME X7 scooter price reasonable as most of its competitors are $3K+ with slightly inferior specs as compared to the YUME X7 e scooter.
For most scooters that can match Yumi X7 spec-by-spec, you don't expect to cough less than a whopping $4000!
8) The ultimate YUME X7 riding experience
When I laid my hands on the YUME X7 8000W, I had my preconceived thoughts about what the ride would be like.
Some thoughts were a hit and others a miss.
For instance, I expected that there may be issues with my safety (thinking of instability) since 13-inch tires genuinely feel big for a two-wheeler.
And boy, was I wrong.
The wheels raise the ground clearance and that makes stability a merit.
These, coupled with the motorbike-grade dual suspensions at the front and rear bring about safety and stability as you cruise around.
The torque is definitely not the best and as you ride, you may experience this.
If you have ridden a higher-end model such as the Dualtron Storm, you will definitely feel it.
This is one of the areas that YUME can do better with the X7, but the YUME X13 model is far much more advanced.
The included YUME X7 seat absolutely hits the point.
Made of ergonomic black leather and aluminum, this is a sturdy saddle that can offer durability for long.
The seat enhances comfort, especially when passing through corrugated terrains and bumpy areas.
To some extent, I felt a little bit of stem movement at the top speed and didn't take this in the affirmative.
If only YUME would solve this by including a steering damper just like they did with YUME X11.
Another thing is that the acrylic lights are remote-control powered and this is a demerit to some extent.
Picture this: If you are in a hurry and forget the remote at home, then switching off the lights will be a pipedream for you.
A recommendation to make here is that they need to include a clickable button to switch off the deck lights during the day as this will save the power more.
Hopefully, this YUME X7 scooter review has enlightened you the best.
9) YUME X7 P Settings
You can watch the P Settings for the YUME X7 in the video below:
What do you expect from a new YUME X7 box?
Once you order a YUME X7 electric scooter, you are bound to receive a couple of things along with your scooter.
These are:
Your electric scooter
Remote control for switching on the acrylic lights
Your user manual
A fitting, adjustable seat that you will configure yourself
A toolkit for adjusting the different parts of the scooter
A YUME bag.
Where Can I Buy YUME X7?
You can buy YUME X7 on the official website or on AliExpress.
We, however, recommend that you buy the scooter on the YUME official Site for better service.
We ask for your support
To provide more unbiased content, we rely on affiliate commissions.
As such, we would love for you to buy using our affiliate links so that we can continue providing more content and help other readers just like you get their best rides seamlessly.
When you buy YUME X7 electric scooter using our affiliate link and AMOS-X7 as your coupon code, you will end up saving $100 and you will have held our hand towards doing more reviews.